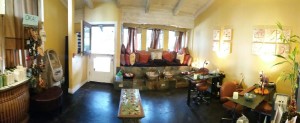 Packages
1. The Happy Hour

50 minutes

1/2 Massage of your choice and
1/2 Body Salt Glow
$115

2. Renew Yourself

1 hour 50 minutes

Give your skin a quick glow with a Mini facial, Microdermabrasion, Cocktail manicure & Peppermint Foot Soak with Foot Massage.
* upgrade to your choice of manicure and / or pedicure upon request.
$195

3. Romance for Two

1 hour 50 minutes

Two 50 minute Swedish Massages and
Two 50 minute Facials / or two Papaya Back Treatments.
(Your choice done in the same room side by side.)
$360

Couples Packges

Therapeutic Massage (50 min. / 80 min.)
$170 / $250
Sweedish Massage (50 min. / 80 min.)
$210 / $290
Chocolate Oil
$230
Deep Tissue
$230
Choose any two styles not listed
$230
Couples Premium Style (50 min. / 80 min.)
$250 / $330

4. Sampler's Delight

2 hours 20 minutes

For the one who wants to try everything in the best time. 1/2 Massage of your choice, Mini Facial, 1/2 Body Salt Glow, Manicure, Peppermint foot soak with foot massage
* upgrade to your choice of pedicure upon request.
$245

5. In Spa Party Package

We come to your home or hotel, we set up, treat you and your party to incredible treatments. Your choice:
– Chocolate or Champagne massage  50 min.
– Chocolate or Champagne Manicure and Pedicure with heated mittens
– Chocolate or Champagne body salt glows
$359 per person

6. No Stress Detox

50 minute relaxing massage, Turbo Sonic treatment, 50 minute Detox herbal body wrap, Detox foot bath (detoxes the full body)
$328

7. Bridal Passion Party Package

We come to your home or hotel, we set up, treat you and your party to incredible treatments. Your choice:
– Chocolate or Champagne massage  50 min.
– Chocolate or Champagne Manicure and pedicure with heated mittens
– Chocolate or Champagne body salt glows
$359 per person

8. The Ultimate Retreat

6 1/2 hours

80 minute Massage of your choice, Facial with vitamin C treatment, 50 minute Papaya Back Treatment, 50 minute Body Salt Gow / or Peppermint Body Wrap, 45 minute Lavender Manicure with Peppermint Mask and 75 minute Lavender Pedicure with Peppermint Mask
Also included: Light lunch
$510

9. Corporate Escape

3 hours, 20 mins / 3 hours, 45 mins

50 or 80 minute Personalized Massage, Papaya Back Facial, Manicure, and Sea Salt Pedicure
$245 / 285
Add microdermabrasion to any package for $80
Samplers delight 245
Corp escape 285
Turbosonic membership $900 per year
Condensed wax man R42 package $360
Gift certificates available
Outcalls available (additional fee $40)
Changes and substitutions to our packages may be available.
Cancellations must be 48 hours prior to appointment. Gratuity added for parties of 3 or more.
Suggested gratuity is 20% on all treatments.